Party Package 1 (4/1/2021)


Saturday & Sunday 1 - 4 pm
$150.00 (10 patrons)


Includes
* Admission for 10 patrons
* Skate rental if needed for 10 patrons
* 1 slice of cheese pizza for 10 patrons
* 1 small soda for 10 patrons
Skateland Northpoint
​

410-282-0223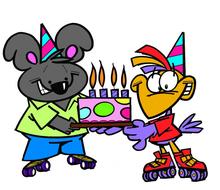 Birthday skate
We know that your Birthday is one of the most special times of the year, and we'd be delighted to help you celebrate.
At Skateland we have three packages to accommodate any age child, and your varying needs and times.
For just a little more than the cost of regular admission, your birthday person and guests get the V.I.P. treatment, treats, and of course, the ROLLER SKATING.
Roller Skating Parties Are Best Because...

We do all the work - you have all of the fun!


We have popular music, games, and a fully stocked snack bar.


We can handle any size or age group.


Our friendly experienced staff are Party Pros!

Party Package 2 (4/1/2021)



SATURDAY & SUNDAY 1 - 4 PM
$300.00 (11 - 20 PATRONS)



INCLUDES
* ADMISSION FOR 20 PATRONS
* SKATE RENTAL IF NEEDED FOR 20 PATRONS
* 1 SLICE OF CHEESE PIZZA FOR 20 PATRONS
* 1 SMALL SODA FOR 20 PATRONS

Birthday Parties

Fund Raising Parties

Private Parties

School Groups

Church Groups

Day Care Centers

Clubs

Teams

Scouts

Youth Groups

Companies

Civic Organizations

Reunions

4-H Groups

Special Events


YOUR Group